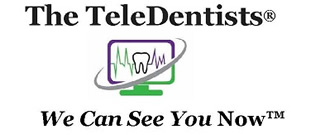 Teleradiology?  Main stream.1 Tele-Psychiatry – Common practice and being used for 50 years.2 Tele-Stroke and Tele- ICU have found their place in hospitals across the country.  And now the emergence of companies dedicated to sub-specialty telemedicine.  Teledermatology, Telecardiology, Tele-orthopedics, Telepathology, Tele-ophthalmology, Tele-obstetrics, Tele-pediatrics. And now, Teledentistry.
Teledentistry is the use of information technology and telecommunications for dental care, consultation, education, and public awareness.
Maria Kunstadter, DDS, co-founder of The TeleDentists who has been in practice for more than 35 years, says, "We are solving an unmet market need. Nearly 6 million people annually experience an urgent dental problem and lack access to a regular dentist or are unable to find a dentist who can see them quickly." Emergency department (ED) dental visits are a significant, costly public health problem. A study documents more than 2 million annual emergency department (ED) visits in the United States for nontraumatic dental problems.
It must be "a thing" as next week I will be attending a conference dedicated to teledentistry.3
How much do you need to see inside the mouth?
Here's an answer from the FAQ section on the TeleDentists web site: 4
Reaching a preliminary idea about what's happening in your mouth starts with a discussion. You tell what it feels like, we ask questions, we see you on the video, and then we can discuss various possibilities and outcomes. Definitive treatment will happen when you see your new dentist.
I see four primary ways in which teledentistry will be delivered:
Providing dental expertise via existing telehealth solution providers
Providing fixed site solutions to hospitals, clinics, FQHCs, and employer health centers
Enabling existing dental practices to offer a service to existing (and future) patients for after-hour, emergency, or consultative support without requiring a visit to the office.
Direct to the consumer via dedicated web site and enhance mHealth tools.
Which one of these will prevail?  Next week I am privileged with the task of having to figure this out as I become CEO of TheTeleDentists.
I feel somewhat uniquely qualified to do this.  I certainly know more about dentistry (as a patient) than I did about radiology when I dove full time into teleradiology 12 years ago.  I have helped two separate teleradiology company achieve the status of a place in the Inc. 5000 list of fastest growing private companies.  In addition to the nuts and bolts of telemedicine (licensing, credentialing, scheduling, recruiting), I have seen first hand what it takes to make a telemedicine operation successful:
A dedication to Quality service (thank you Dr. David Cohen, founder of Teleradiology Specialists)
A team of support staff dedicated to the operation as well as patient care
Flexibility to adjust to the needs of the market
I walk into this with the knowledge that a start-up company faces many challenges and that there are more failures than successes.  I am confident that there is a market need.  While there are dozens of teleradiology companies and almost as many tele-psychiatry companies, no one else has built a network of dentists ready to perform this task.
Stay tuned.
Notes:
According to a recent Research and Markets report, the global teleradiology market is on the upswing and is forecasted to reach $8.2 billion by 2024
In 1969, Massachusetts General Hospital (MGH) provided psychiatric consultations of adults and children at a Logan International Airport health clinic. During the 1970s-80s it became increasingly common, expanding to most diagnostic and therapeutic interactions.
Rochester teledentistry conference; https://www.urmc.rochester.edu/dentistry/education/continuing-education/teledentistry-conference.aspx
http://healthepractices.com/wp-content/uploads/2019/03/image001.jpg
135
310
Howard
http://healthepractices.com/wp-content/uploads/2013/09/HeP_Logo_small-embossed.jpg
Howard
2019-05-26 13:01:49
2019-05-28 12:49:55
And Now, TeleDentistry