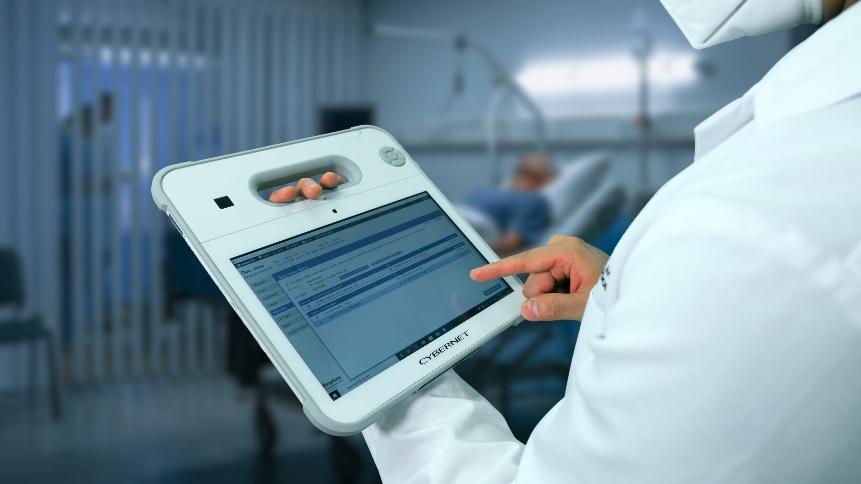 I was recently asked what the "Reis Telemed Program" would look like, especially regarding Senior Care.
Given the season, I present my Telemedicine Holiday Wish List.
The package arrives in the mail just before your 65th birthday.  The package consists of a tablet (with a handle) and a peripheral device along the lines of an MedWand https://www.medwandsales.com/ or a Tytocare https://www.tytocare.com/ .  You plug the tablet in, and it works right out of the box with a welcome screen.  It can be voice activated with a touch screen option.  Security features include biometrics like an eye scan or a fingerprint with two factor authentication.
The main screen resembles something like the following (I need a real designer to make this, but you get the idea.)

The main screen is customizable by the patient, with on-line customer service available 24/7 to help.
Vital Signs includes a dashboard of all applicable medical information, all collected through Remote Patient Monitoring.  Any major changes are highlighted (with alerts sent to an appropriate healthcare provider.  This section also includes access to all medical records from all providers without the need to log into multiple systems.  Test results are also available here.
Friends and Family addresses one of the major concerns of the elderly, loneliness.  Easy links are provided for identified family members and can be accomplished by phone, video, text, or email.  Interest groups are also available for group chats or advice.
Current News is customizable based on items of interest to the individual patient.  News can be delivered by video, text, or alerts.
Healthcare Information contains searchable articles about diseases and conditions with the ability to receive the information at various levels of complexity.  There is a strong emphasis on "wellness" and suggestions for how to best avoid getting sick.  Gamification is included with incentives for healthy behavior.
The handle permits the patient to transmit EKG information.  Perhaps two handles are necessary.
Also included:
Automated scheduling of appointments and appointment reminders
Billing and tracking of bills and co-payments
Information about clinical trial availability
Easy to use directory about healthcare providers and their specialties
Notification if anyone has attempted to access personal information
Here's a pet peeve:  By taking this tablet to any healthcare provider or appointment, information can be transmitted so that the patient never needs to fill out a clipboard again.
The system is free to the patient.  Funding for the system is provided by non-Medicare patients who want to participate, limited targeted advertising and actual product sales.  A non-advertising version is available for an additional fee.  Assuming the patient opts-in, data is available to third parties.
Clearly defined metrics is a key to success.  My hypothesis is that patients who monitor their care will be healthier and therefore incur lower medical bills.  Studies will need to prove this.  In 2021, the average Medicare cost per beneficiary in the US was $15,671, an increase of 9% or $1,323 from 2020.  How much will this system bring down these costs?  It remains to be seen.
In their recent book, Dr. Jay Sanders and Michael Gorton write about the Digital Medical Home (DMH), a living platform that can be fed the right data continuously to enable a care team to provide the next generation of healthcare.  As that data is fed into the DMH, Artificial Intelligence (AI) can monitor and watch for unusual blips, suggest interventions, coordinate care outreach, and support clinical decision making.  I believe this will be an important component of a successful system
All these components are available today.  The key is tying them all together into an easy-to-use system.
I welcome suggestions for additional feature functionality as well as identifying existing systems which meet most of this functionality.  Anyone want to help build this?
https://healthepractices.com/wp-content/uploads/2022/12/image001.jpg
484
861
Howard
https://healthepractices.com/wp-content/uploads/2013/09/HeP_Logo_small-embossed.jpg
Howard
2022-12-16 19:55:41
2022-12-16 19:55:41
Telemedicine Holiday Wish List