One of the great privileges in life has been to see the birth of a new child.  Ok, now I'm working on grandchildren and that's a great privilege too.  In my professional life, I've had the privilege to observe the phenomena of bringing a new product to market.  There are similarities.
Source-Ray Inc. (SRI) (http://www.sourceray.com/) is a developer, supplier and the largest American manufacturer of diagnostic portable imaging equipment.  They were finding that established entities were not overly interested in portable systems.  Then they came upon the Urgent Care Market.  Various studies have identified approximately 10,000 Urgent Care centers today, and the market value is projected to grow from $23.5 billion in 2013 to a projected $30.5 billion by 2020, according to a new report from Transparency Market Research (TMR).  With no single dominant equipment vendor in the market, this seemed like a great opportunity for SRI.
There has been much talk about the "triple aim" in healthcare:  improving the patient experience of care (including quality and satisfaction); improving the health of populations; and reducing the per capita cost of health care.  SRI set off to create a solution that met all three.  Create a quality product at a lower price point combined with clinical efficiency.  The primary differences were to create a unit which required less electrical power (5kw compared to other 30kw systems) and minimal lead shielding so that it could be utilized in existing (rather than purpose-built) exam rooms.  The result is the Source-Ray UC-5000.
Here's a much simplified graphic of a process which took just over a year: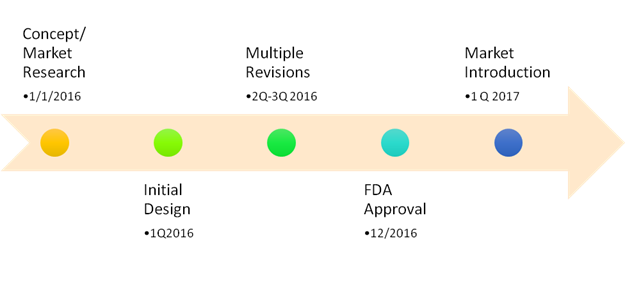 Highlights included:
·    Dozens of revisions to all aspects of the product including electrical, mechanical, ergonomic and aesthetics.
·    In preparation for FDA (510K Medical Device Authorization) approval, working with Underwriters Lab (UL) and EMC for Electromagnetic Compatibility Testing
·    Completion of literally two feet of paperwork and a >150 item check list.
·    Submission to and approval from FDA in 29 days!
Lesson learned, do your homework in advance and get an experienced consultant to guide you through the process to assure that the FDA filing is 100% correct!
As the product approached the market ready state, SRI wanted the endorsement of a radiologist with regard to image quality of the x-rays.  Who better than Dr. David Cohen, Founder and Chief Medical Officer of Teleradiology Specialists, the leading x-ray over reader for urgent care, serving over 1000 centers nationwide?  According to Dr. Cohen, "I find the quality remarkable considering the images were produced by a lower power unit".
Selling the product will be driven by John Schaumberg, Director of Business Development.  John is a passionate product champion who has been careful not to "sell" the product before it was approved and ready, but who has nurtured the cause from the onset.  One of the strong selling points is that the new system will require significantly less room preparation costs than all of its competitors…it is both a clinical and business solution.  According to John, "It's not selling, its's not marketing, it's education".
The product will have its coming out party at the UCAOA (Urgent Care Association of America) convention and Expo which takes place beginning April 30 at National Harbor in Maryland.  As urgent care centers continue to expand, as cost continues to be a consideration, and as urgent care owners learn about the benefits of this new device, it will be exciting to see how the market reacts.
http://healthepractices.com/wp-content/uploads/2017/04/xray.jpg
135
310
Howard
http://healthepractices.com/wp-content/uploads/2013/09/HeP_Logo_small-embossed.jpg
Howard
2017-04-18 16:16:33
2017-04-18 16:16:33
Bringing a New X-Ray Product to Market