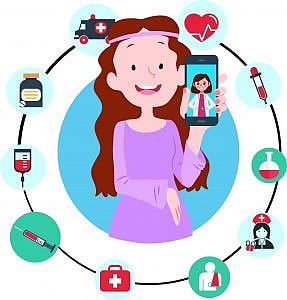 The Millennial generation is the biggest in US history—even bigger than the Baby Boomers.  They value (among other things) Innovation, Convenience and Experiences. Has telemedicine found the demographic group which will make this delivery system a ubiquitous component of medicine?    Several new service offerings suggest that perhaps it has.
Slingshot – https://www.slingshothealth.com/ – Is a marketplace which allows you to book an appointment online with a doctor near your location at a price you are willing to pay.
Uberdoc – https://uber-docs.com/ – Gets you a guaranteed appointment with the best specialist for you, without being put on hold, needing a referral or waiting many weeks
XpertCare – https://xpertcare.online/ – Is a network of Pediatric Subspecialists who provide e-Consults to pediatric primary providers and is about to launch its direct-to-the consumer service.
Millennials (anyone) can currently purchase:
A recent count showed over 220 active telemedicine/telehealth providers happy to provide online assistance to parents looking for immediate attention to their children's medical needs.  For example, a child is teething in the middle of the night? The parent can See The Teledentists at www.theteledentists.com
91% of employers are expected to offer telemedicine by 2020, according to a First Stop Health survey of midsize to large employers.
Earlier this year, Healthcare IT News reported on a new study that showed millennials rate telehealth as "extremely or very important" to their choice of medical provider.
Media Logic suggests that some of the most salient statistics on millennials and their comfort level with telehealth include:
74% prefer a telemedicine visit to an in-person appointment.
26% would switch current doctors over one that offers telehealth.
71% want to be able to book their appointment through a mobile app.
75% that have used telehealth rated it as superior to a traditional on-site office visit.
This study says millennials are the age group most likely to use telehealth, especially for mental health:
https://static.americanwell.com/app/uploads/2019/08/American-Well-Consumer-Survey-Age-18-34.pdf
That's not to say that there won't be hurdles.
While the vast majority of midsize to large employers offer a telemedicine benefit, less than 2% have used the service, according to Willis Towers Watson's 2018 Annual Changes Ahead Survey.
Visibly (formerly Opternative) was forced to recall its online vision test https://www.optometrytimes.com/news/visibly-formerly-opternative-recalls-online-vision-test
The California Dental Association was instrumental in passing a law that offers protections for patients using teledentistry (for tele-orthodontia).
https://www.ada.org/en/publications/ada-news/2019-archive/october/california-passes-law-strengthening-teledentistry-requirements
So, with additional popularity comes controversy.  If the services are cost effective, easy to use, and available on a mobile phone, it looks like they are here to stay.
http://healthepractices.com/wp-content/uploads/2019/11/millenial.jpg
135
310
Howard
http://healthepractices.com/wp-content/uploads/2013/09/HeP_Logo_small-embossed.jpg
Howard
2019-11-04 15:51:41
2019-11-04 15:54:56
Telemedicine for Millennials