The global market for telemedicine was valued at approximately $18.20 billion in 2016 and is expected to reach approximately $38.00 billion by 2022.1  The global teleradiology market was valued at approximately $ 1.91 billion in 2016 and is expected to generate revenue of around $ 4.75 billion by end of 2022. 2
By my count, there are 87 commercial teleradiology companies in the U.S., most of which are providing nighttime (nighthawk) reading of radiology exams for U.S. hospitals with more than 50% of hospitals using this service.  One company has found an interesting and profitable niche.  With all those nighthawk companies competing why not offer a "dayhawk" service to clinics, imaging centers, mobile medical companies and specialty physician practices?  Teleradiology Specialists has done just that.  Their niche?  Urgent Care Centers.
There are 7,357 urgent care centers in the U.S., according to Urgent Care Association of America's 2016 Benchmarking Report. The number marks an increase from 2015's count of 6,707 (+ 10%).  As of September 1, 2017, Teleradiology Specialists is reading exams for more than 1,600 centers (> 20%).  While just about all urgent care centers provide x-ray services, they do not have a radiologist on site.  Very few provide advanced imaging and several are beginning to offer ultrasound exams.  Net, net that's a lot of x-rays.  On a busy Monday (Monday is always the busiest) Teleradiology Specialists can expect to read 7500 exams from centers in 44 states.  That's done with a group of 85 radiologists who like reading x-rays (not all radiologists do). Not all doctors are on the schedule every day, and scheduling is a critical component as a doctor needs to have a license in the state where the study originates.
Teleradiology Specialists was just named to the Inc. 5000 list of fastest growing companies in the U.S. (# 758) with a reported revenue in 2016 of $13.4 million.  With that 20% market share, this would project to a market size of about $ 60 million, just a niche within a niche of the global telemedicine market.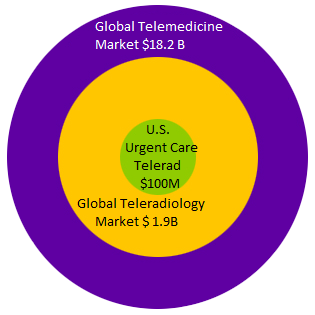 Establishing this niche market didn't happen by accident.  Here are the steps that made this happen.
1. Find a well-respected client that can act as a reference.
2. Deliver outstanding service.
3. Learn the niche through participation in industry events such as conferences and trade shows.
4. Identify key differentiators which make you different from the competition.
5. Identify key decision makers and industry influencers and educate them about your value added.
6. Identify the key target customers and develop a strategy to pursue them.
7. Price competitively – pursue market share before profits.
8. Partner with other industry vendors who deliver complimentary products and services.
9. Identify and develop value added services.
10. Build a team that has shared vision and goals.
But wait, there's more.
11. Prepare for a Long Sales Cycle, especially with large customers
12. Listen to your early adopters if they ask you to iterate or pivot
Now comes the next challenge.  Growth!  Do you find new market opportunities while protecting your base, or find new products and services to sell to existing clients?  Or both?
1. Sarasota, FL, March 31, 2017 (GLOBE NEWSWIRE) — Zion Market Research has published a new report titled "Telemedicine Market (Tele-Education, Tele-Training, Tele-Consultation, Tele-Monitoring, Tele-Care, and Tele-Surgery) for Neurology, Orthopedics, Cardiology, Dermatology, Emergency Care, Internal Medicine, Gynecology, and Other Applications: Global Industry Perspective, Comprehensive Analysis and Forecast, 2016 – 2022".  
2. Zion Market Research has published a new report titled "Teleradiology Market by Category Type (Hardware, Software and Telecom and Networking), Modality Type (X-ray, Computed Tomography, Magnetic Resonance Imaging, Ultrasound, Nuclear Medicine and Fluoroscopy) and Region: Global Industry Perspective, Comprehensive Analysis and Forecast, 2016 – 2022"., growing at a CAGR of around 16.5% between 2017 and 2022.
https://healthepractices.com/wp-content/uploads/2017/09/blogpost_feature-img_090917.png
135
310
Howard Reis
https://healthepractices.com/wp-content/uploads/2013/09/HeP_Logo_small-embossed.jpg
Howard Reis
2017-09-12 13:26:12
2017-09-12 13:28:05
A Niche in a Niche – Providing Teleradiology Services to Urgent Care Centers